18 Sep 2023
It's a date! Save the date for the 2024 NHSEE
The 2024 NHSEE will be on March 14, 2024 at NHTI in Concord. You never know about snow in New England, so if there's bad weather on the 14th, we'll look forward to seeing you on the 15th.
This is a great time to get your paperwork in and start working on your projects. If your project requires preapproval (see the guidelines) we need those forms turned in by Dec 1, 2023. Our committee will meet and approve your entries by February 16, 2024.
We can't wait to see what you're working on and meeting you at the fair!
---
14 Sep 2023
Regeneron Science Talent Search 2024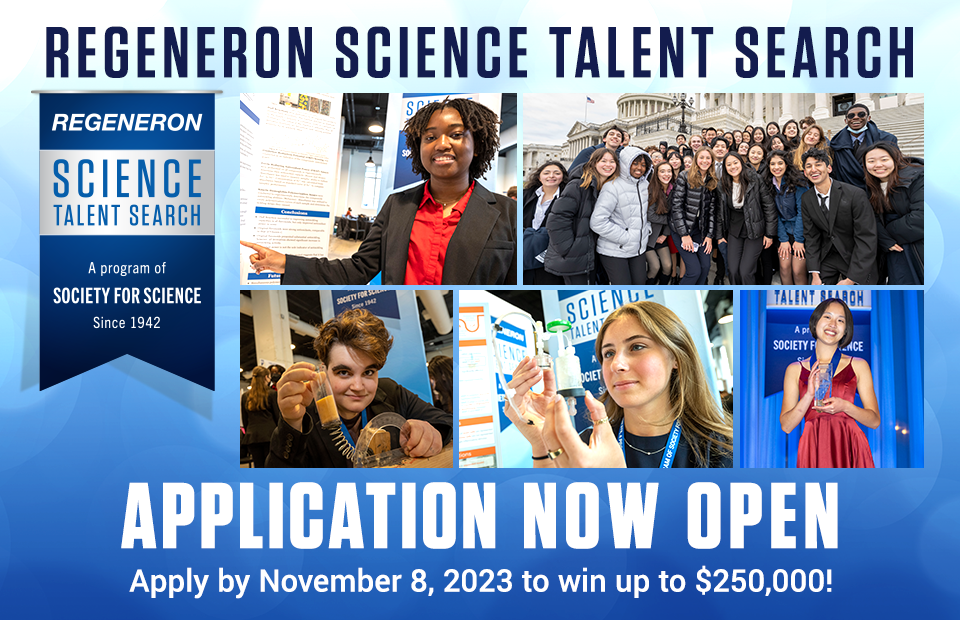 The 2024 Regeneron Science Talent Search Application is now open!
Application and Recommendation Deadline: November 8, 2023 at 8pm ET
High school students kiving in the United States, and US citizens living abroad who have completed independent research projects are encouraged to apply online for the chance to win up to $250,000.
Learn more about the competition and review the General FAQs
Read the Application FAQ
Writing a recommendation for a student? Read the Recommender FAQ!
Questions? Email our team at [email protected]
https://sciencetalentsearch.smapply.org
---
18 Aug 2023
Thermo Fisher Scientific Junior Innovators Challenge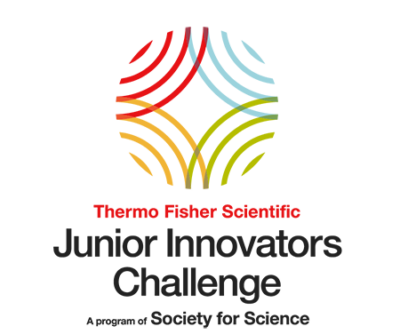 With funding from Thermo Fisher Scientific, Society for Science (the host of ISEF) is pleased to be running the Thermo Fisher Scientific Junior Innovators Challenge (JIC) in its inaugural year. The Thermo Fisher JIC (previously the Broadcom MASTERS from 2010-2022, the Society's Middle School Program (2008), and the Discovery Channel Young Scientists Challenge (1999-2007), is the nation's premier STEM research competition for middle school students.
Teachers – these resources are for you to help support your students as they explore this event. https://www.societyforscience.org/jic/for-educators/
---
8 Aug 2023
WickedSTEM 2023 – The Northern New England STEM EXPO!
NHSEE is excited to be attending WickedSTEM 2023 on Sept 23rd! Come join in the fun! Check it out on https://wickedstem.com . WickedSTEM is a daylong expo to connect the youth of New England with the vast STEM community in New Hampshire, Maine, Vermont and Massachusetts.
Dean Kamen, founder of FIRST will lead a session on "STEM: The solution to emerging world issues". You'll also hear from Jeromy Grimmett, founder and CEO, Rogue Space Systems, Zach Umperovitch, creative lead of ZynnLabs (Zach will build a special contraption just for WickedSTEM), Flo Nicolas, Founder/CEO Get Tech Smart and Brian B. Brady from SNHU will speak on "Game On: Learn to Make Video Games and Impress Your Friends".
And see how Sub Zero makes ice cream with liquid nitrogen (and try some!) Have questions about the NHSEE in Spring 2024? Members of the NHSEE board will be there and would love to meet you. It's going to be a great event and you won't want to miss it.
---
25 Jul 2023
A Special Evening of STEM – October 5, 2023 at SEE Science Center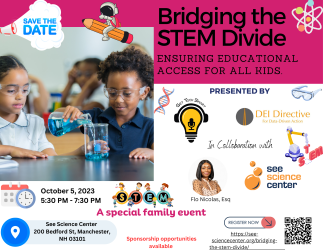 Get Tech Smart's goal is to inspire, connect, and support STEM Access for all in our community. You are invited attend a special family event at SEE Science Center, presented by Get Tech Smart & DEI Directive (Techstars '23) and hosted by Flo Nicolas. You can explore the Science Center's fascinating exhibits, enjoy science demonstrations by SEE Educators, and engage in science drop-in activities.
In addition to the exciting program planned for the evening, Get Tech Smart invites you to extend your support to SEE's Inclusion programs, which play a vital role in providing science enrichment experiences to underserved children in our community.
Your support and participation are invaluable. If you have any questions, please don't hesitate to reach out to Flo at:
Get Tech Smart
[email protected]
---
14 Apr 2023
Feedback from one of the judges
We encourage our judges, teachers and students to let us know what they thought of the fair, and of course we value the expertise and dedication of all that help make the fair possible. Ryan McCarthy of Fitzemeyer & Tocci Associates, Inc. was one of our judges, and he wrote about his experience on the company's blog. Thank you Ryan (and all of our judges) for taking your time to judge, and we appreciate the companies that give their employees the time to come to Concord to help out.
Anyone else? How did you enjoy the day? Let us know on our contact page.
---
1 Feb 2023
Planning a trip to space this year? Well, maybe Space Camp?
Alex Higgins Memorial Scholarship
Calling all students ages 9-18 year of age!
Train to be an astronaut, an airplane pilot or a robotics engineer in a five-day immersive, intensive, educational and fun camp at the U.S. Space & Rocket Center! Since 2001, more than 50 New Hampshire children and teens have traveled to U.S. Space Camp & Rocket Center, in Huntsville, AL, for a week of simulated astronaut or pilot training, thanks to the Alex Higgins Memorial Space Camp Scholarship. And three more will get to go in 2023! Would you like to be one of them?
The Alex Higgins Memorial Space Camp Scholarship was founded in 2000 in Memory of Alex Higgins of Bedford, NH, who died in March 1999 from injuries that resulted from a backyard accident shortly before his 13th birthday. Alex was a wonderful young man who loved life and was filled with good will toward all he met.
In 1994, he attended U.S Space Camp. and the scholarship was created by the Higgins Family and McAuliffe-Shepard Discovery Center to give deserving NH youths the same opportunity that Alex had, the potentially life-changing experience of a week at Space Camp.
Application deadline: Wednesday, March 1st, 2023.
The application can be downloaded below or a physical copy can be picked up at the Discovery Center during public hours. https://www.starhop.com/alexhiggins?utm_source=NHSEE.org
Stay in touch: Alex Higgins Memorial Space Camp Scholarship Facebook Group
19 Sep 2022
Regeneron STS 2023 Application NOW OPEN!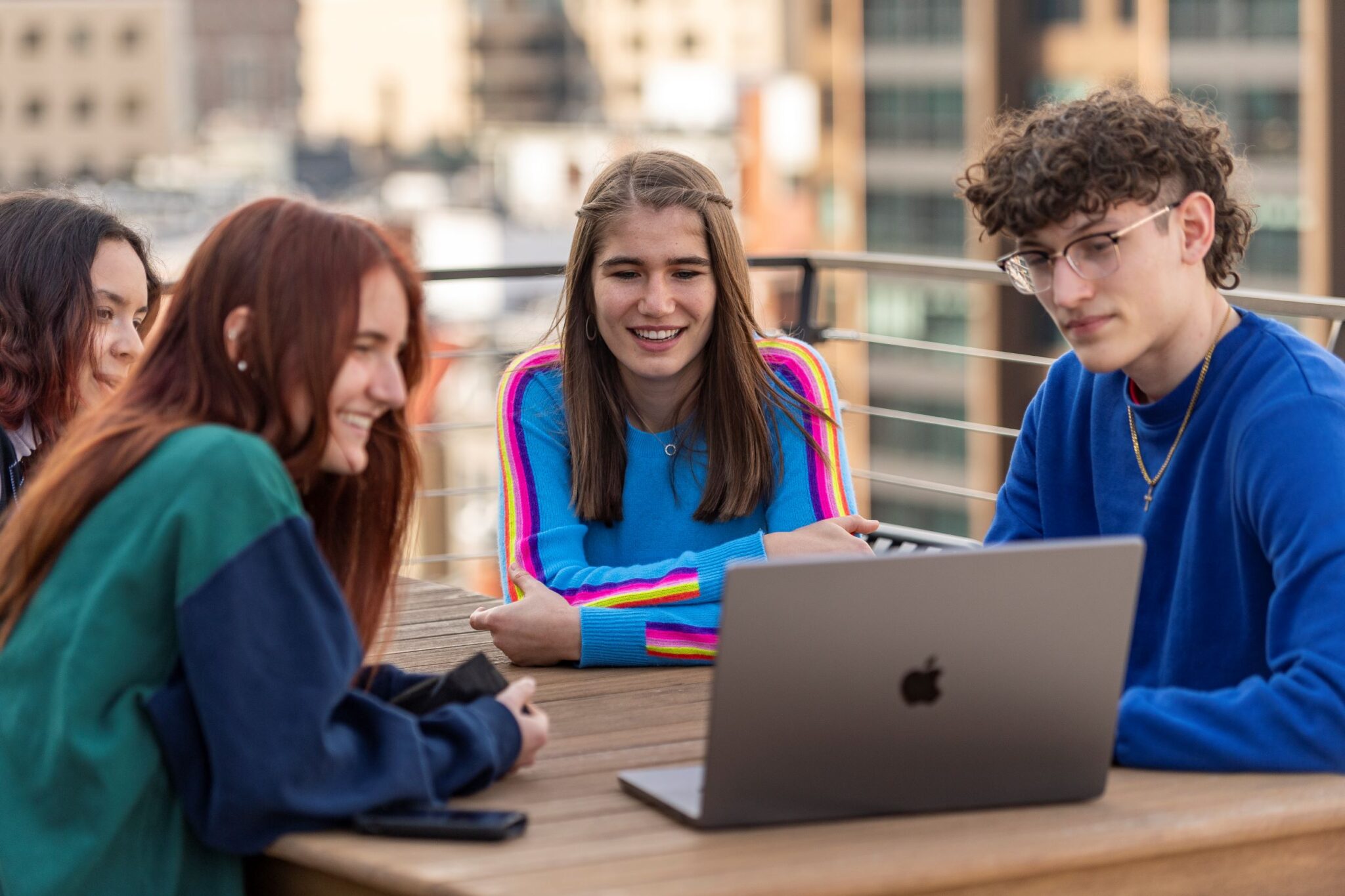 Apply today through November 9, 2022 at 8pm ET

Regeneron STS has identified future leaders in STEM since 1942. High school seniors living in the United States, and US citizens living abroad, who have completed independent research projects are encouraged to apply online for the chance to win up to $250,000!
Learn more about Regeneron STS through our webinar series! Sign up here to receive links 30 minutes prior to each session:
Tuesday, October 4 at 8pm ET—Winning Applications: Here's What It Takes!
Tuesday, November 1 at 8pm ET—Advice from Regeneron STS Alumni
09 May 2022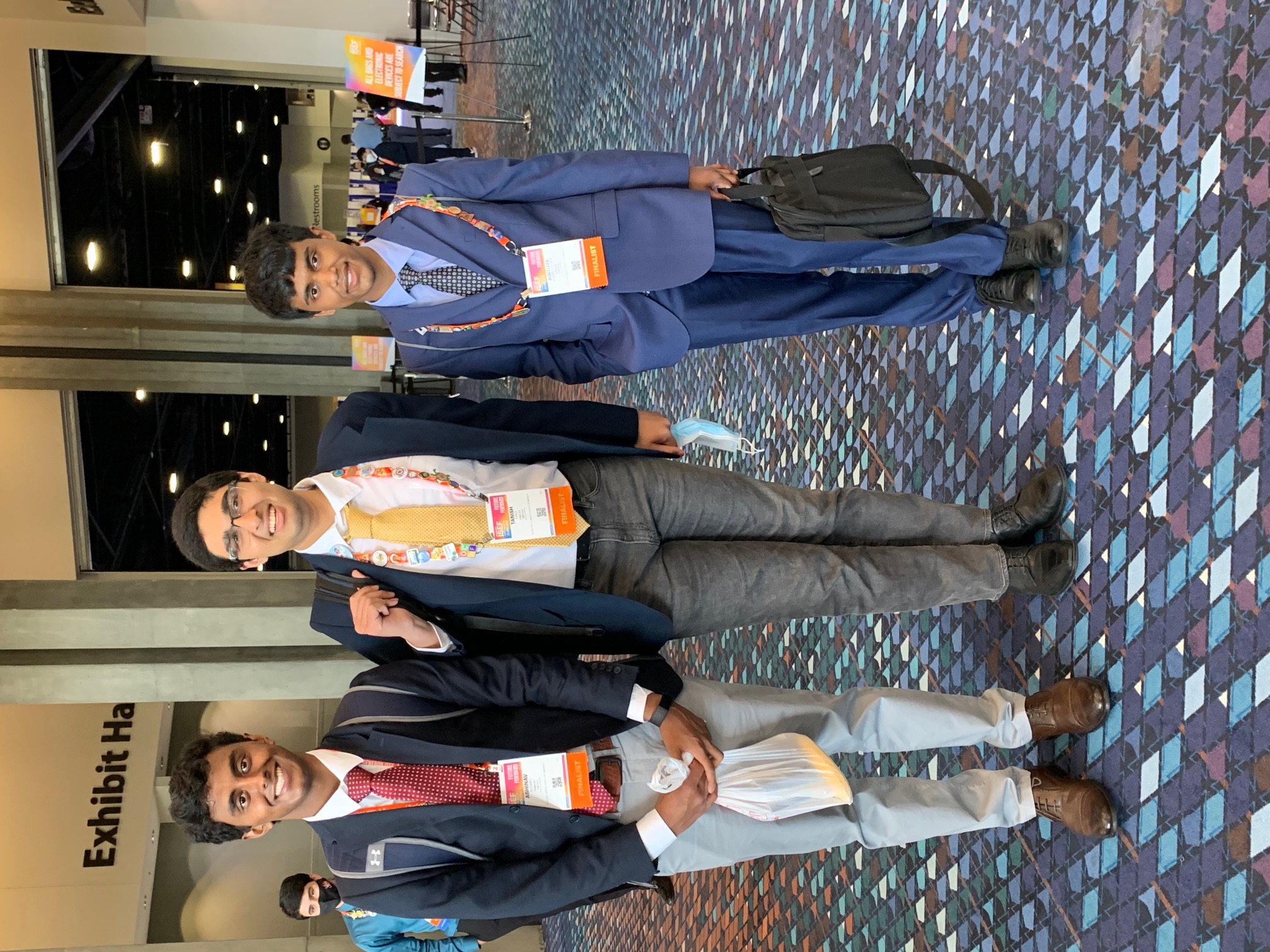 Smiles of relief as judging went well today!
---
08 May 2022
NH finalists arrive in Atlanta to begin their week at the Regeneron ISEF!!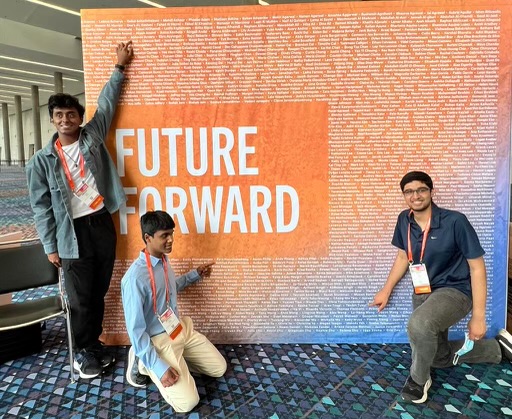 Their names are posted on the official board of finalists! Please join us in wishing them well and waiting on pins and needles to see how they do!
---
Read all about it! The NH Union Leader visited Holy Family Academy in Manchester this week and wrote about their students' success at the 2022 NHSEE. You can read the article below if you don't have a subscription to the Union Leader.
8 Jan 2022
Congratulations Neil Chowdhury and Kevin Cong for being named as scholars in the 2022 Regeneron Science Talent Search!
Today, 300 U.S. high school seniors were named scholars in the Regeneron Science Talent Search, the nation's oldest and most prestigious science and math research competition for high school seniors. Regeneron STS is a program of Society for Science, the same non-profit organization that owns and produces the Regeneron International Science and Engineering Fair. The Society is proud to acknowledge these emerging leaders in STEM fields. Here is a list of the scholars by state.
8 July 2021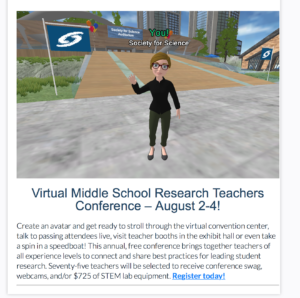 https://rtc.societyforscience.org/Default.asp
8 July 2021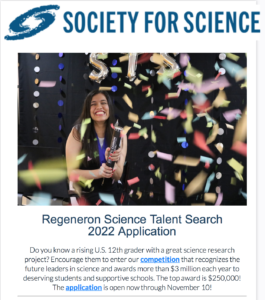 https://sciencetalentsearch.smapply.org
29 March 2021

2021 NHSEE Science Fair has concluded

You've uploaded your videos, the judges have watched them all and the beancounters have counted all of the beans. To see the results, check out the NHSEE 2021 winners.
8 January 2021

Regeneron Science Talent Search 2021 results

The nation's oldest and most prestigious science and math competition for high school seniors, Regeneron Science Talent Search has announced the winners for 2021. Of the 300 students selected, 3 of them go to school in NH.
Yunseo Choi – On Two-Sided Matching in Infinite Markets
Zheheng Xiao – On Real Forms of Dubrovin-Ugaglia Poisson Brackets
Honglin Zhu – Characters for Projective Modules in the BGG Category O for the Orthosymplectic Lie Superalgebra osp(3|4)
These three students and their schools each receive a prize of $2000. To see the announcement and student list, click here. The NHSEE board congratulates all of the winners, but especially the three of our own!
6 April 2020

2020 virtual NHSEE is underway

Your files have all been submitted, and our judges have begun the process of looking at your materials and ranking the projects. We'll have the results as soon as we can after they finish on April 16. Thank you, everyone, for submitting your projects and giving your time to help judge, or otherwise make this event possible.
6 April 2020

Clean Tech Competition

The Spellman HV Clean Tech Competition is looking for any 15-18 year old with a solution to slow our resource drain, and as we are all virtual until our August Finals, we are still moving ahead!! If you are or know a student looking to address this international issue with innovative engineering and a revolutionary design, this is the Competition for you! In 2020, the Competition is challenging you to help us Reduce Individual Impacts, whether they be in areas with Abundant Resources, or Limited Resources. Contestants research a specific solution to this problem, register for free online in teams of 1-3, and then submit a 5-15 page paper to be judged by an international team of engineers, university instructors and industry professionals! Registration ends on May 8 and papers are due by May 13, so do not delay! The 2020 Finals event is set to be held in early August in New York, where Finalist teams will present their research and constructed prototypes as they vie for the $10,000 per category grand prize! For more information, visit www.cstl.org/cleantech, and feel free to reach out the administrator at [email protected] or by phone at (516) 764-0045
We actually hate this, but the Expo event on site has been cancelled for this year.
And we hate this too, but the Regeneron ISEF 2020 has been cancelled. 🙁
23 March 2020

Regeneron ISEF 2020 Fair is cancelled

This is more news we really don't like.
You can read the whole story on the ISEF site, but the email we received from ISEF starts like "The Society for Science & the Public and Regeneron are deeply disappointed to share that, based on our comprehensive evaluation of guidance provided by the Centers for Disease Control related to the COVID-19 outbreak, we have made the difficult decision to cancel the Regeneron International Science and Engineering Fair 2020, scheduled for May 10-15 in Anaheim, California."
We hope that those of you still eligible for the NHSEE 2021 fair will join us then. Please be careful and do what you can to keep yourself and your family/friends healthy.
15 March 2020

The 2020 Expo in Concord is cancelled. 🙁

This is news we don't like.
The changes we're making in our lives to help slow the spread of the coronavirus affect us all. NHTI (where we hold the fair) has asked that all events over 100 people be cancelled. We all want to be healthy and safe, but it's still really bad news for us. We know you worked on your projects and we were excited to have a chance to send a few of you to ISEF.
We are working on plans to turn the fair virtual. Keep in contact with your schools or check back here for more details.
13 May 2019

Our 2019 winners are at ISEF!

Our two top fair winners are in Phoenix, ready to show off, meet other science students and represent NH. You can see them here finding their names on the big wall of competitors. We'll have more about their trip asevents unfold.
23 March 2019

2019 NHSEE was awesome!

There was a tremendous turnout at this year's fair, and while we expected some excellent projects, what you all brought to the NHTI gymnasium was better than we expected! Congratulations to all the students for jobs well done, and to our fair winners, Adyant Shankar from Nashua High School South, Ayush Noori from Phillips Exeter Academy, and Katherine Duan from Phillips Exeter Academy.
See the whole list and pictures of the winners.
18 May 2018
News from ISEF 2018
The four NHSEE fair winners took their projects to the 2018 ISEF fair in Pittsburgh and had a great time! Click here for some pictures of NH's own at the fair. You can read about the ISEF winners at the Society for Science website. Congratulations to the winners!
16 March 2018
Congratulations, Vinjai Vale!
Regeneron Pharmaceuticals, Inc. (NASDAQ: REGN) and Society for Science & the Public the winners of the Regeneron Science Talent Search 2018, the nation's oldest and most prestigious science and math competition for high school seniors. Vinjai Vale of Exeter, New Hampshire (who placed 3rd in the 2017 NHSEE), received a $70,000 award for creating a system that may improve the ability of convolutional neural networks (CNNs) to understand complex scenes. Congratulations to Vinjai and all of the students who did well at the Science Talent Search!
15 March 2018
2018 NHSEE was amazing!
If you missed this year's fair you missed a great one. Here's a quick peek at some of the competitors and the final awards presentation. The winners list can be seen here.
Thanks to everyone who made this possible. We hope to see you there next year!
Of course, if you'd care to donate to our efforts or have your company sponsor the 2019 NHSEE, we'd love to hear from you (click here).
---
14 September 2017
Regeneron Science Talent Search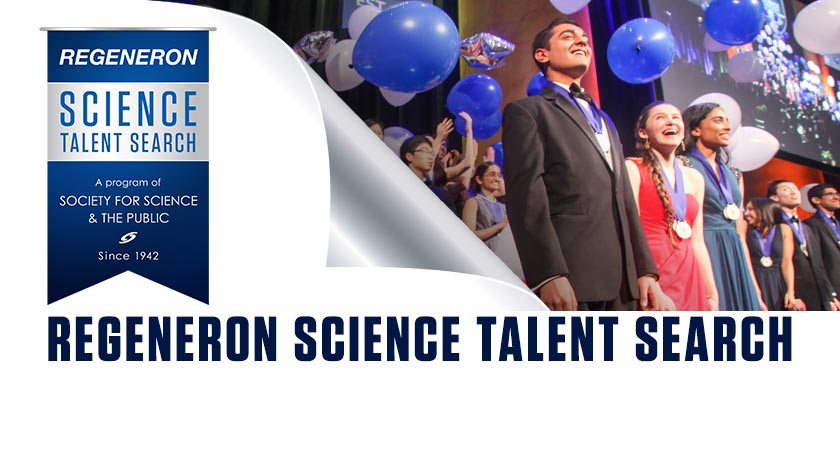 Are you a high school senior with a great original research project? Now is the time to open an application to the 2018 Regeneron Science Talent Search, the nation's oldest and most prestigious STEM competition for high school students. The online application is open now through November 15, 2017 at 8pm ET.
The Society for Science & the Public and Regeneron are proud to award more than $3.1 million to deserving students and schools again this year, including a top prize for one student of $250,000. Three hundred entrants will be named scholars and will receive $2,000 each, and 40 finalists will be named, awarded $25,000 each, and will be invited for a week long competition in Washington, DC in March of 2018. The Regeneron Science Talent Search has recognized outstanding student research projects and identified young leaders in STEM fields for the past 77 years.
Interested students are encouraged to open an application now so that they will receive reminders and tips from the Society throughout the process. Students may work on their applications in small segments of time, saving their work as they go. To learn more about the application and eligibility requirements, please visit our application FAQ page.
The top 300 scholars will be announced on January 9, 2018 and the top 40 finalists on January 23. Questions? Email the society at [email protected] for fastest response.
---
21 June 2017
2018 NHSEE Expo dates!
The scheduling elves have been busy finding the perfect date for next year's NHSEE Expo.
The 2018 Expo is confirmed for Thursday, March 15 2018 at NHTI, Concord's Community College. If the weather is a problem, we'll see you on Friday, March 16 instead.
It's not too early to start thinking about your science or engineering project. You may still have a few days of school left or you can check in the fall to find your school's science fair coordinator.
Don't miss out on the fun! It's a great day to show off your ideas and hobnob with your fellow wizards, and perhaps take your project to international competition!
Remember to mark your calendar for March 15, 2018!
---
3 April 2017
Liberty Mutual 2017 April Vacation Code Day!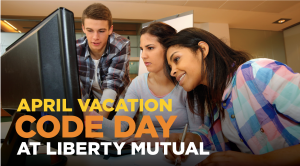 Wednesday, April 26, 2017
8:30 AM – 4:30 PM
225 Borthwick Ave., Portsmouth, NH
WHO SHOULD ATTEND?
Motivated high school juniors and seniors who are interested in learning basic website design coding skills and want to learn more about technology careers.
THE OPPORTUNITY
Learn more about a career in technology through hands-on activities, demonstrations, and guest speakers.
– Student will need to sign a permission slip provided by Liberty Mutual prior to the event.
– Students should expect to attend the event unaccompanied by teachers/parents.
RSVP BY APRIL 7, 2017
Email Al[email protected] if you are interested and qualify.
---
16 March 2017
If you missed NHSEE 2017, you missed a great fair!
The big storm that NH and other parts of New England this week wasn't enough to dampen the spirits of the science students who brought their projects to NHTI in Concord to compete for trophies, medals and bragging rights. We had some amazing projects this year and the competition was fierce for the top spots. Take a look and see how things worked out.
---
28 January 2017
NHSEE 2016 winner named as finalist in national talent search
Regeneron runs the annual Intel Corporation and the Society for Science 'Science Talent Search', and distributes $1 million to the winners. Mary Zhu was chosen as one of only 40 students in the country to compete for the top prize of $150,000.
To be included in the search you have to have demonstrated 'exceptional scientific potential in three areas: basic research, global good and innovation.' Mary Zhu of Nashua High School South won 1st place at the 2016 NHSEE for her project "Food for Thought: A Novel Computational Approach to Modeling the Impacts of School Meal Policies". It wowed the judges last year, then earned Mary a 2nd place showing at the 2016 ISEF fair in Phoenix AZ. We're not the least bit surprised that this effort caught the attention of the STS search committee. Mary will be presenting her research project to national leaders/scientists and the public at the National Geographic Society , and will also visit Congress on her trip to Washington DC in early March. Nashua High School South also gets a $2,000 grant.
You can learn more about Regeneron's Student Science Search or see the press release.
Please join us in congratulating Mary and wishing her the best of luck.
---
8 July 2016
Regeneron STS Science Research Teacher Conference
Regeneron loves it when high school students take an interest in science. Without dedicated science teachers, this wouldn't happen, so Regeneron is running a conference for science teachers.
You can learn more about Regeneron's Student Science Search or sign up for a chance to attend the teacher's conference.
The Regeneron STS Teacher Conference will take place September 30-October 2, 2016 in Washington, D.C. Attendees will be selected by lottery and will represent veteran, intermediate, and novice Regeneron STS teachers. One teacher per school will be selected. Attendees from last year's conference and their schools may still apply, but new schools and attendees will be given preference. Sign up by August 10, 2016 for a chance to attend.
---
16 June 2016
High School Technology Design Challenge 2016
A local NH company is offering an exciting opportunity to New Hampshire students. Fidelity Labs and Fidelity's User Design Team are running a Technology Design Challenge! This is a one day event on Thursday, 7/14/16 from 8:30am-4:30pm.
Start the day learning the basic principles of Design Thinking (as taught by the Stanford d.School). These techniques focus on building deep empathy for your customer and foster creative problem solving.
Work in teams to apply the principles you learned to design and prototype a new product.
Tour our award winning campus and see how we utilize technology for innovation.
Meet with and hear from recent college graduates who have completed our technology learning and development program, Leap.
Learn how to get first consideration for technology internship opportunities in Summer 2017!
Cash awards given for the best design concepts. Applications were due by June 30. We hope you were able to get into this program.
---
15 June 2016
"Genius is one percent inspiration, ninety-nine percent perspiration" – Thomas Alva Edison (c. 1903)
Truer words have never been spoken. Great advances in science have come from great scientists, but have you considered that these scientists were once students just like you? They had problems and failed experiments like you have. Most of them have never shown at NHSEE, but imagine if they had?
The Teacher's College at the University of Columbia did a study of 400 high school students. Professor Xiaodong Lin-Siegler found that students who read articles and learned about the personal struggles of Albert Einstein, Marie Curie and others were able to improve their own study habits and greatly improve their own performance in school. We truly do learn from watching others.
We were inspired by reading Columbia University's article about Professor Lin-Siegler's findings and we think you will be too. After reading the article about the research, you'll want to read the real thing. Her published article is on apa.org and you can read it here.